Seamless Gutter Installs in Council Bluffs, Lincoln, Omaha & Nearby
We provide complete gutter installation to compliment the styles and materials of your home.
Upgrade your home with respected gutter and downspout replacements in Nebraska & Iowa
When it's time to replace your gutters, it's important to get the right solution for your home. At Midlands Home Solutions, we install quality gutters in a variety of materials from industry-leading manufacturers. Our gutters always provide the durability and weather protection you need while ensuring your home has a great finished appearance.
If you're interested in gutter installation for your home, give us a call today at 1-844-807-6136 or click below to get started. Our experts will evaluate your home and recommend the right solutions for your needs. We offer free estimates on all our work in Council Bluffs, Lincoln, Omaha, and the nearby areas!
What you can expect from our gutter services in Sioux City, Bellevue & surrounding areas:
Inspection and measurements prior to installation
Custom gutter solutions, measured to exact specifications
Watertight and durable seamless gutters
Complete clean-up and debris removal
Gutter protection and gutter systems installed by licensed professionals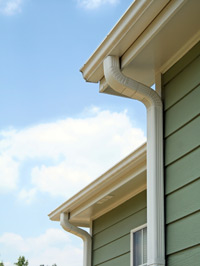 New gutters provide a clean look and the right drainage for your home.
Gutters are available in various sizes and styles, each with their own benefits. Midlands Home Solutions will help you determine the best options for your home.
Seamless gutters
Aluminum, copper, and wood gutters
K-style and half-round gutters
Gutter guards and gutter screens
Each of these options has different benefits for your home, including durability, performance, and appearance. Our experts will recommend the right gutters for your home based on the layout of your roof, the number of trees around your home, and your drainage needs.
If your gutters are leaking, clogging, or damaged, Midlands Home Solutions is here to help. We offer quality gutter and downspout services to ensure that you get the weather protection you need for your home.
Our experts will provide you with a quality gutter installation designed to fit your home's specific needs. Call us today at 1-844-807-6136 or contact us online to get started with a free estimate in Omaha, Lincoln, Council Bluffs, Sioux City, Bellevue, Grand Island, Kearney, Fremont, Hastings, La Vista, and the surrounding areas.